Quantitative EEG Assessment
What Is A QEEG?
A QEEG assessment is a recording of brain activity (the electroencephalogram) from across the whole scalp using a number of sensors, usually 19. The raw measure of brain activity is converted using mathematical equations into a form which can be compared to a normative database.
This comparison allows us to make a judgement about whether aspects of your brain are communicating effectively with each other, and whether you have amounts of each type of activity which are consistent with other people without clinical symptoms.
What Information Does The QEEG Assessment Provide?
A QEEG assessment provides us with information about brain activity. This is represented in a number of ways. There are different types of brain activity which are related to arousal states of the brain. These are: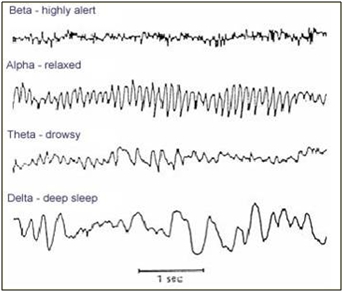 The results of the QEEG assessment, including the relative amounts of each type of activity, are presented in the form of a 'brainmap'. For example, the report you are provided with will contain several figures like the one below.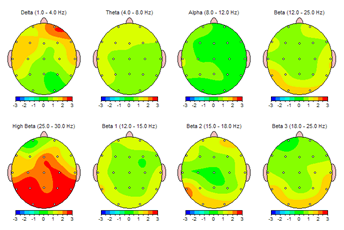 How Can I Use The QEEG Results?
The 'brainmaps' within your report will allow a trained professional to evaluate how effectively your brain is working, but also whether your particular profile of brain activity is the kind we would expect given your pattern of symptoms. If this is the case, we can advise you on approaches that are available to allow your brain to work more efficiently, so you can function at a more optimum level.
One such approach we offer at LANC is neurofeedback, a technique which directly alters brain activity through a conditioning paradigm.
Online Study
Invitation to participate in an online survey for those who were diagnosed with ADHD/ADD before age 18, are between 18-40 and have no knowledge of any high pervasive impact disorders (Autism, Asperger's, Personality Disorders).
Online Study
If you meet the criteria outlined and wish to participate, please click on the link below to complete this anonymous and confidential 10 minute survey.
This study has full ethical approval and aims to examine the potential differences between self and public stigma concerns in disclosures versus non-disclosures of ADHD/ADD. Additional information is outlined on the first page of the survey.