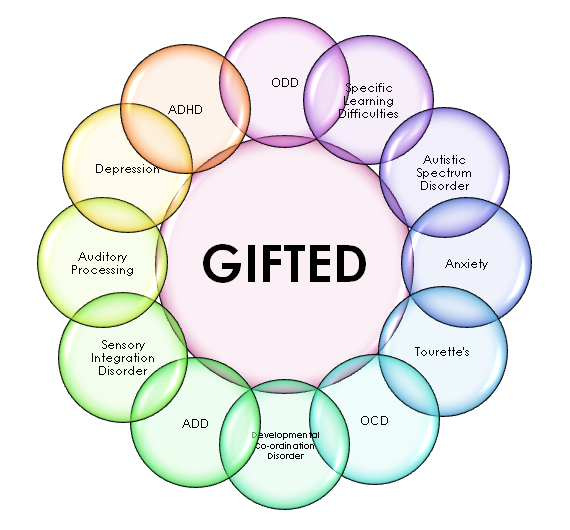 Many neurodevelopmental conditions can often exist together, but each can be treated in different ways.  The picture below illustrates how the conditions overlap.  Please use the drop down menu to view other conditions.
What Is Gifted?
Giftedness refers to the intellectual ability of someone that is significantly higher than average.  This is not something that has been learned, such as a skill, but something that is generally inherited and innate.  One example of explaining giftedness is: 'If we say that all people look at the world through a lens, with some lenses cloudy or distorted, some clear, and some magnified, we might say that gifted individuals view the world through a microscope lens and the highly gifted view it through an electron microscope.
They see ordinary things in very different ways and often see what others simply cannot see.' (Silverman, 2009).  In England, the Department of Education, (formerly known as the Department for Children, Schools and Families) identifies gifted learners as those who have particular abilities in one or more curriculum subjects and talented learners as those who have particular abilities in the creative arts (such as music, art & design, drama, dance) and PE.
Symptoms Of Giftedness
Research has shown that gifted children spend at least a quarter to one-half of classroom time waiting for others to catch up.  Thus if they are in an inappropriate schooling situation where their brightness is not being recognised they may show the following symptoms:
bored
inattentive
impulsive
have very strong views and ideas of right and wrong
be very intense
bored
low self-esteem
demotivation
Thus a very careful assessment is necessary to ascertain whether or not the school environment is appropriate, whether the giftedness or brightness is being recognised by the school authorities and whether appropriate intellectual and other supports have been put in place.  An evaluation needs to be made as to whether the child's ability to concentrate on mundane tasks is discrepant to the child's intellectual ability.
How To Measure Giftedness?
There are general IQ tests that will detect gifted abilities.  One particular test which is recommended is the Wechsler tests whereby giftedness is as follows:
an IQ of 130 – 144 is gifted
an IQ of 145 – 151 is exceptionally gifted
an IQ of 152 or above is profoundly gifted
The Verbal Comprehension and Perceptual Reasoning subtests, whereby understanding verbal information and solving nonverbal problems skills are measured, are considered good indicators of gifted abilities.  They are able to assess verbal abstract reasoning in addition to visual reasoning, whereas Working Memory and Processing Speed and less correlated with giftedness (Silverman, 2009).
Ability To Hyperfocus
Many intellectually able children are able to hyperfocus on things that they find interesting but they have great difficulty with the boring or mundane tasks or where the child cannot see any point.  Sometimes the diagnosis is missed because of this.  The traditional educational view that if a child can focus on something interesting then if he tries harder he should be able to focus on anything is simply not true with these children.  It is often referred to as "a faulty on and off switch".
The harder the child tries to cope with the more mundane things, interestingly the lower their self-esteem becomes.  It is probably best thought of more as a defective control of concentration rather a deficit in concentration per se.
Summary
Clinicians must be aware of the concept of dual diagnoses, and the importance of giftedness in masking the presentation of children and adults with ADHD.  Such people may well have other coexisting difficulties as well.  A careful evaluation is essential.
Assessment of the type of educational support that has previously been available must be made.  Many such individuals have a "faulty on/off switch", with the ability to hyperfocus on topics interesting but they have great difficulty on the mundane.  A cognitive assessment should be considered as part of any evaluation.  Care must be taken to avoid labelling children as having ADHD when their giftedness warrants better recognition, whilst on the other hand a diagnosis of ADHD must be made where appropriate.
Online Study
Invitation to participate in an online survey for those who were diagnosed with ADHD/ADD before age 18, are between 18-40 and have no knowledge of any high pervasive impact disorders (Autism, Asperger's, Personality Disorders).
Online Study
If you meet the criteria outlined and wish to participate, please click on the link below to complete this anonymous and confidential 10 minute survey.
This study has full ethical approval and aims to examine the potential differences between self and public stigma concerns in disclosures versus non-disclosures of ADHD/ADD. Additional information is outlined on the first page of the survey.