The Learning Assessment and Neurocare Centre have collaborated with PeakMind to provide a Neurofeedback service here in our clinic.
Research has found that individuals with AD/HD have an excess amount of slow-wave activity, theta waves, in the front part of the brain, which makes it difficult for them to maintain concentration.
Through neurofeedback training, which is based upon the principal of operant conditioning, individuals are taught to decrease the amount of slow wave activity and increase other brain wave activity, enabling them to sustain attention.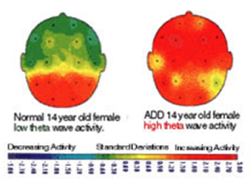 The evidence for this treatment has been gathering for many years, but we are now at a point where it is considered by many to have a good evidence base (Arns et al., 2009).  Monastra (2001, 2005) found that over an average of 43 neurofeedback sessions, 75% of patients in the study had normalised brainwaves which were sustained at the follow up point 3 years after the treatment.  Therefore, their AD/HD symptoms were reduced in all aspects of their lives.
Neurofeedback Sessions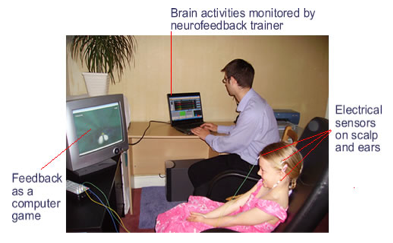 During a neurofeedback session, an individual has a couple of EEG sensors on regions of the scalp that can detect brain activation involved in alertness and behaviour,  When the individual produces the correct brainwave, they are rewarded by a visual movement or auditory sound, therefore reinforcing the behaviour.  In other words, you are playing a game or watching a video by using your brain waves instead of your hands.  As the patient has more training sessions, the brain has to work harder to get rewarded.  On average, an individual would expect to have 40 sessions of neurofeedback treatment with each session approximately one hour long and occurring at least once a week.
When the neurofeedback sessions have been completed, another qEEG can take place.  This can be compared to the original qEEG and will be able to show the progress that has been made during the training sessions.  Neurofeedback has been shown to be successful for both children and adults with a variety of difficulties.
Neurofeedback is not a quick fix solution as training can take some time to complete.  However, it has been found that some patients have been able to reduce their medication or in some circumstances completely stop the use of medication after having neurofeedback.
Testimonials
"Our son is 12. He had ADHD diagnosed when he was 6 and had been on methylphenidate every schoolday since then. We live in Liverpool so there was no way we could attend for sessions. We have been doing 2 sessions a week for the last 8 months. He has been able to stop his methylphenidate and is much more confident socially and has learned new skills like badminton and skiing that he just didn't have the patience off medication to try. We had an excellent service from Peakmind – everyone was really friendly and helpful especially when I was struggling with the practical aspects of home training. I got detailed and helpful feedback by email every week while doing the training and he was also available on the phone when a more in depth discussion was needed. In summary I think that the neurofeedback has been really worthwhile." 
"I was diagnosed with ADHD and mild depression in 2006 and naturally my psychiatrist provided me with drugs to help alleviate the problems I was experiencing. I soon discovered however that drugs do not work. They don't teach you how to take control of your symptoms through training your mind. I then begin my journey of self improvement and discovered neurofeedback. After 2 months of home training, I improved tremendously in terms of my ability to maintain an attentive and relaxed state of mind. Also, I'm not as impulsive, I think before spending money, and my mood has improved. I have the confidence now to go on to better things. If you have have any mental or stress related illnesses, then neurofeedback sessions should be your top priority. Phone Peak Mind Now!! 
"Before I had the QEEG test with PeakMind I did not understand why I had such a poor attention and concentration span and unusual high levels of energy that prevented me from achieving my full potential throughout my education. Having the test confirmed that it was in fact ADD that I have. Knowing this now has given me peace of mind, especially knowing that there is a healthy form of treatment available. Since all advice and service given has been extremely helpful I would definitely consider treatment and recommend this service to others who believe that they may have ADHD or ADD."
Further Information
If you would like to know more about our Neurofeedback service at LANC, please contact Dr Neil Rutterford at PeakMind:
Tel: 07825 632340
Email: info@peakmind.co.uk
Useful Links:
Useful Resources: