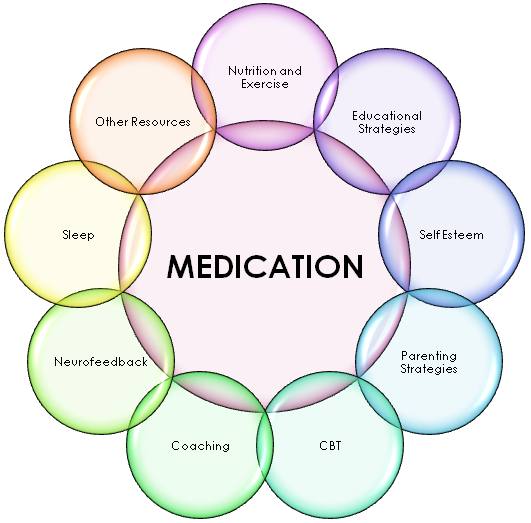 As ADHD is a medical condition of brain dysfunction, medication is the option considered to have most benefit in treating the core symptoms, i.e. inattentiveness, impulsivity and/or hyperactivity as part of the comprehensive management.  It should also have a flow-on effect to many of the other problems.  Parents should be aware of the possibility of medication as an option, if their child is diagnosed as having ADHD.  Whilst mild cases can sometimes be managed with non-medical strategies, significant ADHD should be seriously considered for medical treatment.  Medication should be seen as providing a window of opportunity to allow other strategies to be seen as providing a window of opportunity to allow other strategies to be more effective, and to make the child less vulnerable to the stresses of the environment.  The use of medication should not be seen as an "either-or" situation, but as an important addition to other management strategies, in appropriate children.
The side effects of medication for ADHD have been grossly exaggerated and distorted.  The use of any medication has potential side-effects and there is always a benefit/risk ratio.  The side-effects associated with the treatment of ADHD are transient, as they are short-acting medications, and doses usual last no longer than four hours.  They also tend to be dose-related.  Only a small percentage, about 5 – 10% of children placed on stimulants, experience significant side-effects: there is no evidence of tolerance, addiction or of growth failure as has at times been suggested.
The media have tended to grossly over-emphasise the side effects of these medications and only rarely point out the reasons why medication is considered in an individual child.  It is therefore critical that parents place side effects in perspective, look at the relatively low incidence of short term side effects with these medication, the paucity of evidence of long term side effects, and the fact that at least 90% of children with significant ADHD can be effectively helped with the use of medication.  It is also important to recognise that ADHD is rarely is static condition, its difficulties frequently persist and often magnify with time.  The long term for many children with ADHD can be quite serious in terms of the risk of psychiatric disorder, antisocial behaviour, long term underachievement as well as problems with relationships, jobs and academic underachievement.
The decision to medicate is never one that is taken lightly and should always be done after a comprehensive assessment to assess whether or not the child has ADHD.  Ongoing monitoring is also essential and your child will be seen on a regular basis.  Communication between appointments is always available by phone, email or letter.  The Centre's ethos is to aim to empower patients as much as possible so that they can be informed and proactive partners in their child's management.
Useful Resources: