Autistic Spectrum Disorder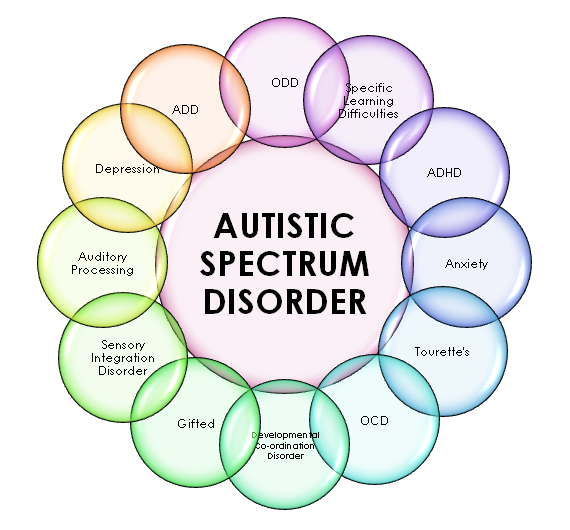 Many neurodevelopmental conditions can often exist together, but each can be treated in different ways. The picture below illustrates how the conditions overlap. Please use the drop down menu to view other conditions.
What Is Autistic Spectrum Disorder (ASD)?
Autistic Spectrum Disorder is a developmental disability where there is a triad of impairments; social communication, social interaction and social imagination.
Autism is called a spectrum as, although all individuals will suffer from difficulties in three main areas, their condition will affect them in very different ways.  No two people with ASD will have the same difficulties.  Asperger's Syndrome is on the Autistic Spectrum.
What Are The Symptons of ASD?
These can be divided into three areas:
Social communication difficulties
Difficulties with both verbal and non-verbal language
Take things very literally
Cannot read facial expressions or tone of voice
Does not understand jokes or sarcasm
Unable to take turns in a conversation
Only wants to talk about their own interests
Social interaction difficulties
Unable to recognise emotions or feelings
Have difficulty expressing their own emotions
Appear to be insensitive
Prefer to spend time on their own
Appear to behave inappropriately
Social imagination difficulties
Difficulty in understanding people's feelings
Unable to think ahead and predict what might happen
Does not understand the concept of danger
Finds it difficult to engage in imaginative play or role playing
Have a dislike for new or unfamiliar situations
Does not like change to routine
Many individuals with ASD also suffer some form of sensory sensitivity, such as not liking the smell of something or the feel of labels in their clothes.  They may also have a special interest that they can hyperfocus on.
What Are The Causes Of ASD?
Unfortunately, the exact cause of ASD is unknown.  However, there is evidence to suggest that both genetic and environmental factors contribute to the development of ASD including genetic links, chemical imbalances in the brain and additives in food.
How Common Is ASD?
 ASD affects approximately half a million people in the UK alone.  This is about 1 in every 100 people.
What Is The Treatment For ASD?
Unfortunately, there is no typical or prescribed medication that is able to relieve the symptoms of ASD.  However, there are other alternative treatments available including:
Parent training
Social skills training
Applied behavioural analysis
Speech and language therapy
Sensory integration therapy
There is no substitute for a thorough understanding of the disorder.