Many neurodevelopmental conditions can often exist together, but each can be treated in different ways.  The picture below illustrates how the conditions overlap.  Please use the drop down menu to view other conditions.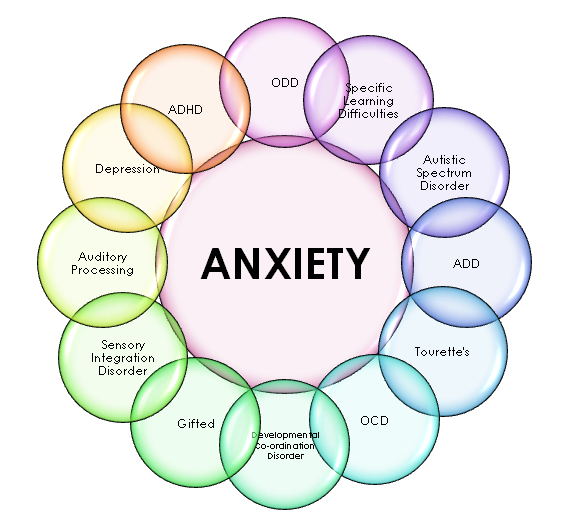 What Is Anxiety?
Anxiety is a normal feeling towards a stressful or dangerous situation.  It occurs by adrenalin being quickly pumped around our body to enable us to cope with the difficult situation.  However, anxiety becomes a problem when our body's response of feeling anxiety is out of proportion compared to the situation.
What Are The Symptoms Of Anxiety?
Individuals often experience physical and psychological symptoms when anxious.  These can include:
Racing heart beat – rising blood pressure
Shortness of breath
Butterflies in stomach
Muscle tension
Headaches
Nausea
Tremor
Sweating
Pins and needles
Agitation
Fear of losing control
Irritability
Lack of sleep
Feeling of depression
Unable to relax or concentrate
How Common Is Experiencing Anxiety?
It is normal for all individuals to experience anxiety at some stage in their lives.  When anxiety is severe, it can develop into an anxiety disorder such as panic attacks, phobias and obsessive compulsive disorder.  Anxiety disorders are common; an estimated 13% of adults will have a form of an anxiety disorder at some point in their life.
What Causes Anxiety?
Anxiety can be triggered by a range of factors including:
Stress
Physical factors
Childhood environment
Genetics
Chemical imbalances in the brain
Management Of Anxiety
There are several management techniques that can help to control feelings of anxiety.  These include
Cognitive Behavioural Therapy
Medication
Self help strategies
Anti-depressant medication, specifically SSRIs (selective serotonin reuptake inhibitors), are often used to reduce anxiety levels.  They work by interrupting the re-absorption of serotonin which is a chemical in the brain that influences our mood and feelings.  However, the National Institute for Clinical Excellence (NICE) state that medication is no more effective than psychological therapies, such as cognitive behavioural therapy.