Many neurodevelopmental conditions can often exist together, but each can be treated in different ways.  The picture below illustrates how the conditions overlap.  Please use the drop down menu to view other conditions.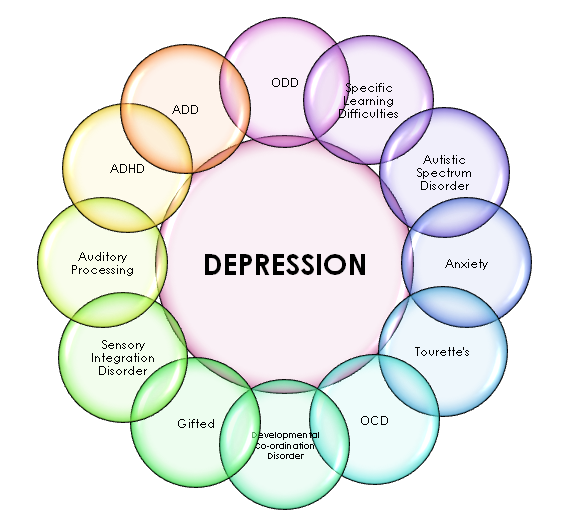 What Is Depression?
Depression is a serious and common illness that is often experienced in episodes. In its mildest form it can mean just being in low spirits, making everything harder to do and seem less worthwhile. At it's most severe, it can be life-threatening as people may give up the will to live.  1 in 5 people become depressed at some point in their lives. It affects at least 2 in 100 children under 12, and 5 in every 100 teenagers. However, there is a great deal that can be done to help those affected by it. The first step to getting help is to be able to recognise the problem.
What Are The Symptoms Of Depression?
Most people with depression will not have all the symptoms listed below, but most will have at least five or six.
 Feel unhappy most of the time (but may feel a little better in the evenings)
Lose interest in life and can't enjoy anything
Find it harder to make decisions
Can't cope with things that you used to
Feel utterly tired
Feel restless and agitated
Lose appetite and weight (some people find they do the reverse and put on weight)
Take 1-2 hours to get off to sleep, and then wake up earlier than usual
Lose your self-confidence
Feel useless, inadequate and hopeless
Avoid other people
Feel irritable
Feel worse at a particular time each day, usually in the morning
Think about suicide.
What Causes Depression?
Sometimes there will be an obvious reason for becoming depressed, but very often it can occur through a combination of factors e.g stressful events, circumstances, physical illness, personality, genes, alcohol or drugs.
How Is Depression Diagnosed?
Depression is usually diagnosed by your GP, who will ask you lots of questions about your general health and how the way you are feeling is affecting you mentally and physically. The GP may carry out some tests to rule out other conditions that have similar symptoms.
How Is It Managed?
The majority of people with depression are treated by their GP. Depending on the symptoms, the severity of the depression and the circumstances, your doctor may suggest one, or a combination of the following:
 Self-help
Talking treatments
Antidepressant tablets